Gas metal arc welding uses an arc between a continuous filler metal (consumable) electrode and the weld pool. Shielding is provided by an externally supplied shielding gas. This process is also known as MIG welding or MAG welding. MIG (Metal Inert Gas) welding means the use of an inert (i.e. non active) gas. MAG (Metal Active Gas) welding requires the use of an active gas (i.e. carbon dioxide and oxygen). CO2 is a more commonly used shortening of MAG welding gas.
<![if !vml]>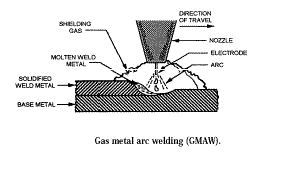 <![endif]>The process consists of a DC arc burning between a thin bare metal wire electrode and the workpiece. The arc and weld area are enveloped in a protective gas shield. The wire electrode is fed from a spool, through a welding torch which is connected to the positive terminal into the weld zone. MIG/MAG welding is the most widely used process in the world today. It is a versatile method which offers a lot of advantages. The technique is easy to use and there is no need for slag-cleaning. Another advantage is the extremely high productivity that MIG/MAG welding makes possible.
MIG/MAG welding is used on all thicknesses of steels, aluminium, nickel, stainless steels etc. The MAG process is suitable both for steel and unalloyed, low-alloy and high-alloy based materials. The MIG process, on the other hand, is used for welding aluminium and copper materials.